By June 2019 a full sensor network was established in Växjö by mounting sensor platforms on a number of taxis.
Below are some first results, based on more than 320 000 data, gathered between the end of February and the end of May.


What distribution can you get by using taxis?
Taxis move a lot, but do they mainly move between certain popular locations like train station and city center or can you get an even geographic distribution of measurements with only taxis as carriers? The results from the project show that by using taxis as carriers, very good geographic coverage was obtained, see images below (more zoomed-out to the left and zoomed in to the right).



A network that never sleeps
Considering power conservation and integrity reasons data are only collected when the taxis are in service. Would this mean that there are times of day where there are no data available from the system? The project has shown that the amount of data collected during daytime, especially during rush-hours, is more than what's collected during parts of the night. But even during the early hours there are substantial amounts of data due to the fact that many taxis operate 24/7. This is visualized in the graph below.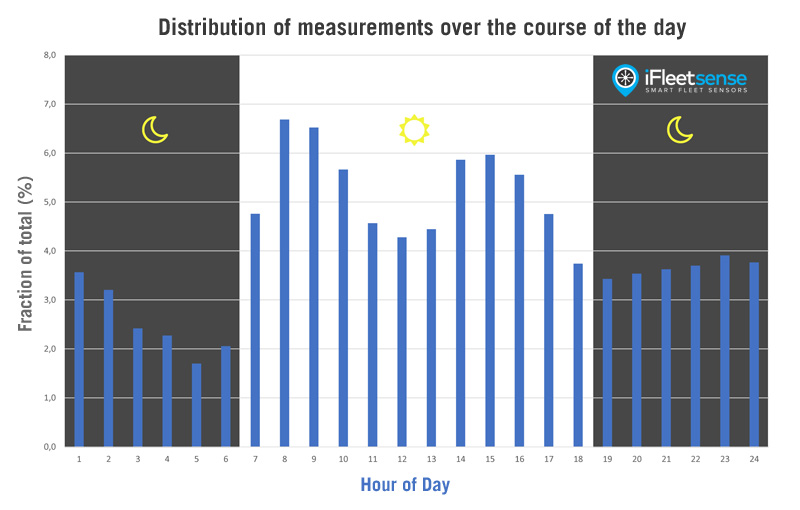 Usercase 1: Street vs Street Comparisons
One possible usercase for the iFleetsense system is that it's geographically well-distributed data allows for relevant comparisons between areas of interest, e.g. two streets. The user can set a desired threshold for a parameter and compare the number of occurences and the proportion of occurances. Reasons for such comparisons could be to find pollutors, better understand why air conditions are better in some locations than others, or planning for re-routing traffic.
The image below shows such a comparison with real data from the pilot.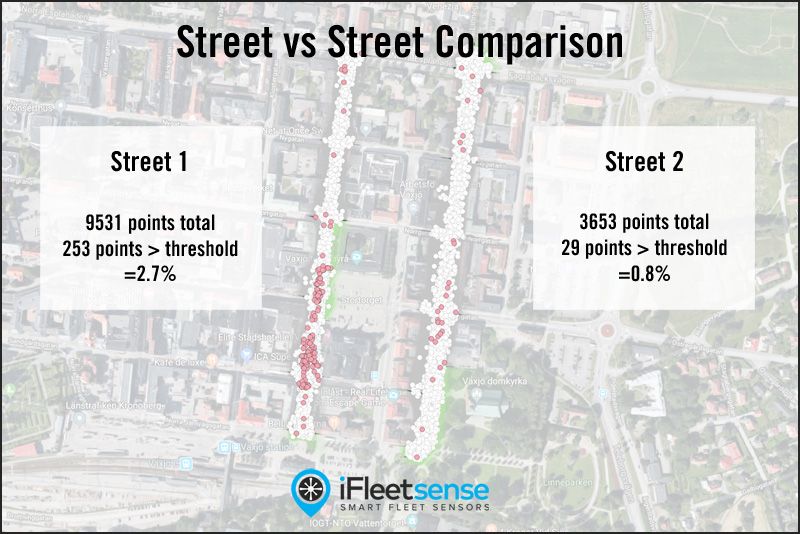 Usercase 2: Comparison of different periods of time - Rush hours impact example
Having plenty of distributed data accross all hours enables geographic analysis between different time-frames, e.g. are there differences between rush hours and non-rush hours and in which locations do these differences occur?
The map below uses particle values during rush hours (06-09 and 15-18) vs Non-rush hours (10-14 and 19-05) from one week as an example. Generally the air quality is very good, but some areas with slightly elevated values during rush hours can be identified (A, B and C), which can then be analyzed further. The maps below show a close-up of area B.